Our Collection
Eco-friendly natural fibre clothing lines – all Canadian designed! – wool blankets, books, handmade glass & jewelry, toys and gifts for all ages.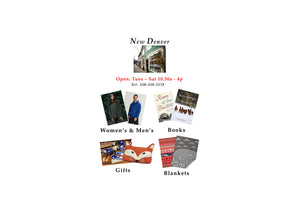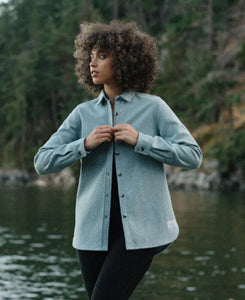 ANIAN Melton Wool
Traditionally used to make pea coats for mariners, the dense weave of melton makes it superbly resistant to both water and wind. A meticulously constructed shirt for the inclement weather of the Pacific Northwest, our versatile Modern Melton Wool is a contemporary take on a timeless design—made from warm post-consumer recycled wool, it's soft, sturdy and naturally insulating, with cozy comfort and breathability for all-day wear. As our wool has already lived a previous life—the source garments are carefully salvaged before being sorted, processed and re-woven—it features a felt-like touch that's smoother than other wools, and it's manufactured in a unique, dye-free process that saves water and eliminates the need for harmful chemical dyes. Our most durable and heaviest-weight women's shirt, the Modern Melton is cut to fit the female form and finished with a drop-in chest pocket, single-button cuffs and a longer scooped hem that falls below the seat. A double yoke rests comfortably across the shoulders and adds additional weather protection, and an inset center-back pleat allows more freedom of motion for days on the go.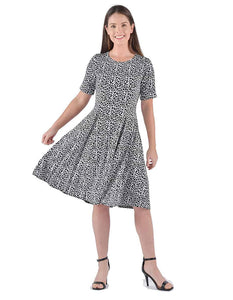 Women's Bamboo Twirl Dress
Fitted bodice with a flowing body that is twirl-worthy
Princess line fit, round neck,elbow-lengthh sleeves
Proudly Made In Toronto, Canada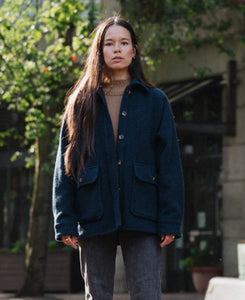 ANIAN - The Georgia Coat
We believe in working with nature, not against it. Embracing the natural warmth and weather resistance of post-consumer recycled wool, this new, casually elegant coat lets you move through the seasons with ease. With the same lofted, bouclé-like Agnello blend we use in our best-selling Loft Coat, it offers cozy, soft-wearing comfort from the city's seawalls to the windy shores of the Georgia Strait. Featuring raglan sleeves and an oversized aesthetic for easy layering, the design has a simple collar, turned caramel buttons, single-button sleeves, and a shorter straight hem; two roomy patch pockets keep essentials safe, with hidden side-entry pockets to keep your hands warm beneath. And to be as gentle as we can to the world we love, the Georgia is manufactured in our unique, dye-free process that saves water and eliminates the need for harmful chemical dyes.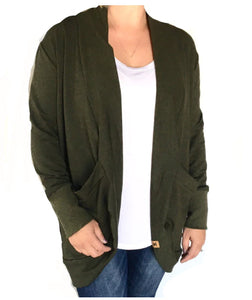 Moss Bamboo Slouchy Cardigan
Casual, comfortable, luxurious, bamboo cardigans. The back scoops right over the bum for a flattering but conservative backside - perfect for leggings! Pockets large enough to lose your keys and phone in! Leather tags and a cozy large collar. If you buy your true size, it is slouchy/baggy enough to wrap yourself in. Sizing down will provide a more fitted look. Shoulders are intended to be lower than true shoulder width. Sleeves can be folded at the cuff or left long. Not suggested to size up.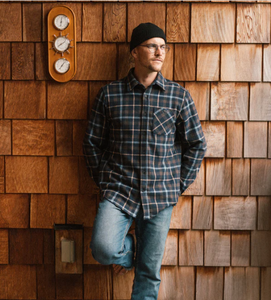 The Cabin Shirt
Like the coastal homesteads that inspired its name, this new midweight flannel is as sturdy and comfortable go-to at any time of year. It's made from a soft and breathable post-consumer recycled cotton blend, and combines classic styling with construction that's as solid as it comes. The design features a simple collar, a buttoned left chest pocket, double-button sleeve plackets and a curved hem. A double yoke lies comfortably on the shoulders and adds more weather protection, and a box pleat allows more freedom of movement across the back. To further reduce its environmental impact, the Cabin Shirt is manufactured in our unique, dye-free process that reduces wastewater and eliminates the need for harmful chemical dyes.

Made In Canada.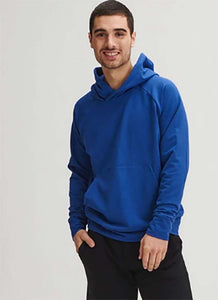 Ocean Blue Fleece Hoodie
Complete your casual look with our Kyle bamboo fleece hoodie with kangaroo pocket. Be colorful with this ocean blue hoodie. Made in Quebec, soft and comfortable to wear, it is so practical that you will want to wear it every day.
DETAILS
Fleece - 70% bamboo - 30% organic cotton 
Blue
Length: 28.5"
Environmentally friendly
The model is wearing a size medium
Wash inside out in cold water, line dry
1% of sales donated to local organizations
Share
Men's Hemp Long Sleeve Dress Shirt
* Perfect light weight long sleeve for business, with or without a tie
* Very comfortable as a casual outfit
* Single front pocket with label "HEMP"
* Matching tone on tone buttons, and an extra button attached
* Hemp blended with organic cotton
* A must for every wardrobe
* Please check size chart for new sizing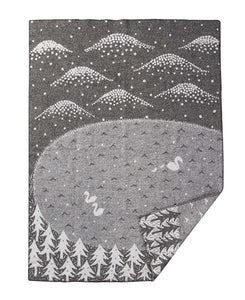 Klippan Swedish wool
KLIPPAN only uses natural fibers for their products such as wool, linen and cotton. Production of their blankets and throws in their own factory, meeting all EU standards, allows KLIPPAN to control the total quality. A culture of environmental awareness within the company makes KLIPPAN work towards a friendlier and more environmentally sustainable production process.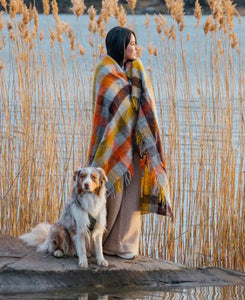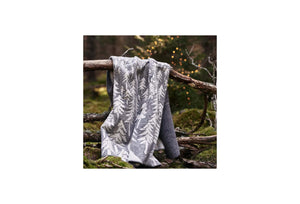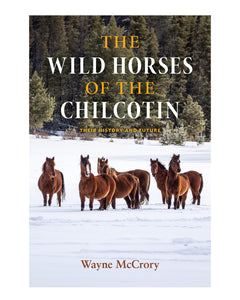 The Wild Horses of the Chilcotin: Their History and Future
Wayne McCrory
The Chilcotin's wild horses are romantic and beautiful, but they are also controversial: they are seen by government policy as intruders competing for range land with native species and domestic cattle and, as a result, they have been subject to culls and are not officially protected.
In this compelling book, wildlife biologist Wayne McCrory draws upon two decades of research to make a case for considering these wonderful creatures, called qiyus in traditional Tŝilhqot'in culture, a resilient part of the area's balanced prey-predator ecosystem. McCrory also chronicles the Chilcotin wild horses' genetic history and significance to the Tŝilhqot'in, juxtaposing their efforts to protect qiyus against movements to cull them.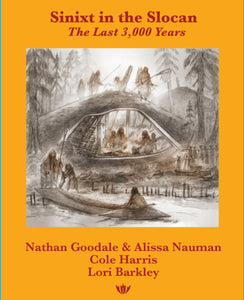 Sinixt in the Slocan: The Last 3,000 Years
Written by Nathan Goodale, Alissa Nauman, Cole Harris & Lori Barkley 
Although unknown until recently by the settler society that displaced them in the 19th century, the Sinixt have lived in the Slocan Valley for the last 3,000 years, perhaps much longer. Drawing on recent archaeological investigations, Part 1 of this booklet describes the occupational history of one of their villages, at Slocan Narrows some 10 km south of Slocan Lake. Then, relying on the ethnographic record, Part 2 describes Sinixt life in the valley in the mid-18th century, before the devastating smallpox epidemic of the early 1780s, then follows a changing Sinixt demography until about 1900, when Sinixt seem to have been gone from the Slocan. A third part, dealing with the years from 1900 to the present, treats the return of Sinixt to the valley and the difficulties and opportunities this has created.
Paperback, 2022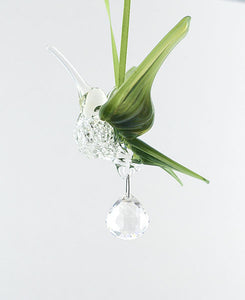 Glass Hummingbird with Crystal Info
Glass Hummingbird with Crystal
A beautiful hand crafted glass Hummingbird. Created by Mark Bateman, Victoria, B.C.
For over 40 years Mark has been in Victoria, flame working figurines from high-fire borosilicate glass.  
As each piece is hand made the actual item may not be exactly as shown in the photo.
Width ~4 inches by Height ~ 3 inches with 1/2 inch crystal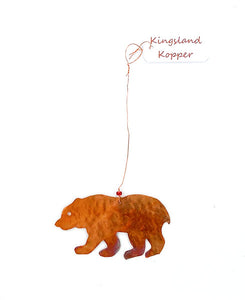 Kingsland Kopper ornaments
Kopper hand hammered ornaments
Nelson BC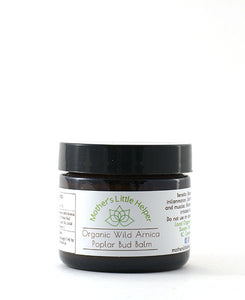 MLH Organic Wild Arnica Nettle Balm
Mother's Little Helper moved to the Slocan Valley in 2011, and have been learning about growing organic food & herbs and wild harvesting from one of the most edible and medicinal forests on our planet. They've been inspired to use the herbs in our natural environment to create a collection of organic medicine. All Mother's Little Helper salves, oils and lip balms are made combining 100% organic ingredients with wild-harvested herbs and flowers from the Slocan Valley. They are passionate about alternative medicine and helping people heal their body using the natural remedies provided for us from the earth.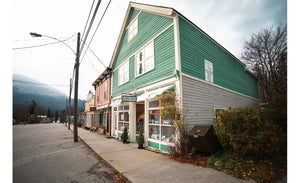 Raven's Nest
310 6th Ave
New Denver, BC, Canada
Unceded SINIXT Territory
November Hours:
Tuesday – Saturday,
10:30 am - 4 pm
Closed Sunday - Monday